2018 Hastings Heroines
Posted by Kelly King on 5 April 2018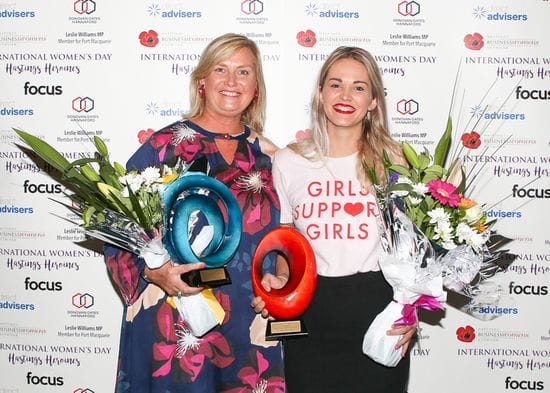 The Hastings Heroines awards recognise the unsung heroines of our local region as part of International Women's Day celebrations. The 2018 International Women's Day awards celebrated women who encourage and strive for disruptive innovation, creating new norms in our community, in line with the international theme of #PressforProgress.
Congratulations to our 2018 Hastings Heroines Nominees
Young Hastings Heroines Nominees
Tamara Dobson nominated by Monique Pyke/Ethan Marshall
Tamara is a young and enthusiastic business owner who aspires to make a difference to the children and people of the Hastings community.
As a full-time community service worker, foster carer, martial arts teacher and ambassador for the local Luminosity Youth Summit, Tamara is constantly showing her commitment to empowering young individuals to think big and prosper.
Anna Morrison nominated by Tracy Diplock
Anna is a young innovative businesswoman who is making her mark in the Hastings region. With her own business, 'A farm for foodies', her work around reducing the war on waste has seen half of her profits go towards supporting UNICEF. Anna has been a proactive community member involved in initiatives such as OzHarvest, the Interact Club, Ironman events and the 'The Six Foot Track' Blue Mountain hike as part of raising funds for UNICEF.
Emily Stewart (Highly Commended) nominated by Tracy Diplock
Emily is an inspiring, yet unassuming young woman who is a quiet achiever, yet powerful changer. Through her involvement in the Interact Club, she is making a real difference in community work in the Hastings.
Emily plays a myriad of Wind Instruments in Concert Bands and Chamber ensembles acting as a leader in these performance groups, both in school and in the Hastings community, travelling further afield to various gigs.She has already completed her Bronze Duke of Edinburgh award, and lead a Primary Youth Group at St Agnes Church. Emily has been involved with Luminosity Youth Summits since 2016 inspiring others to be part of this project. She acts as a leader in Tournament of the Minds competitions promoting harmony amongst participants from vastly different backgrounds. Emily covers a wide array of cultural, service and academic activities and is a young woman who is forging a better future for others.

Jessica Denham (Winner) nominated by Gemma Morley
Jess Denham is a truly inspirational young leader of the Hastings community and is making waves in liberating change for social equity. A large part of Jess's life has been dedicated to her son, Kai and her passion for social and community work in the Port Macquarie area. Since leaving high school, Jess has been a very active community-spirited person who has been involved in a number of local initiatives. In 2010, Jess received the Hastings Young Citizen of the Year Award, which formed the fundamental stepping-stones towards her drive in social justice.
Now in her final year of studying Social Work at Charles Sturt University, Jess has already achieved so much. In the last year, Jess has been an extremely positive member in the local community and received recognition in the NSW State Training North Coast Achievement Award and the Port Macquarie Community Services Excellence Award in 2017.
Her hard work and determination was further acknowledged when she was nominated for the Port Macquarie Community Services Student of the Year in 2017and was selected to attend the NSW Youth Week Forum in 2017.
Jess is a highly motivated and passionate advocate that has displayed her dedication to women's rights to safety, dignity, and equal opportunity through her numerous voluntary roles. In particular, her work with the Share the Dignity campaign, which provides personal hygiene products to women experiencing homelessness and poverty, has made a huge contribution to the women of the Hastings.
Jess has further enriched herself into Social Work and Community Services by committing to regular volunteer work. As a telephone crisis counselor at Lifeline Australia, Jess provides essential support services to individuals experiencing a personal crisis. She is also a huge driving force behind mentoring our next generation of inspiring women, and is a Board member of Girl Space, a place for young women to be inspired, connect and grow together.
Jess represents the courageous generation of young women in our community who are not afraid to disrupt social norms in seeking equality and basic human rights for women. She is innovative and an exceptional example of the women in our community and thoroughly deserves this recognition. We wish her the very best on finishing her Social Work degree at CSU and look forward to hearing about the next step in her exciting career.
Hastings Heroines Nominees
Pix Jonasson nominated by Jennifer Broughton
With an optimistic outlook on life, Pix is an inspirational woman who goes above and beyond to empower individuals in the Hastings. Pix often volunteers in the local community and is an active member of Bravehearts association, the Micro Business Forum and the Hastings Business Women's Network. Pix encourages people to improve and grow personally everyday and has helped and trained many upcoming businesswomen.
Carla McKern & *Narelle Milligan were jointly nominated by Michelle Phillips
Carla and Narelle are positive role models who volunteer tirelessly to innovate and improve the North Shore of Port Macquarie. As women who are devoted to reviving the north shore, Carla and Narelle are dedicating their time to connect residents for a greater sense of community. They have made a positive difference for residents and visitors with environmental protection initiatives, community events and emergency preparedness.
Lisa McLeod - nominated by Robyn Flanagan
Lisa is a great advocate for change and takes a proactive approach to making things happen. Her much-loved saying of , "If you always do what you've always done, you'll always get what you always had" has influenced those who work with her to strive to reach their goals. Through her volunteering with the Pappinbarra Progress Association and Rural Fire Service, Lisa's generosity has played a valuable part in our community.

Ann Drury nominated by Ashley Sargeson
As a teacher for over 20 years, Ann has worked alongside hundreds of young girls and women, empowering them to believe in themselves and their abilities. Ann has been a positive role model by inspiring the next generation of young girls to develop and grow in all areas of life. Her passion to energise youth through education has lead many of her students to follow on in her footsteps.
Sue Reid nominated by Ann-Maree Crowe
For many years Sue has encouraged and motivated people to improve their health and life balances. As previous HBWN Business Woman of the Year, Sue is a committed advocate who supports a number of charities and events in the Hastings.
Not only a wonderful woman inspiring people to live their best life, her support for the elderly in her work roles has demonstrated her passion of working with all members of the community.
Mel Haverfield nominated by Jenny Edmonds
Mel has played an influential part as a member of the HBWN in implementing the integration of young women, under the age of 25, into the network through the FreeThinkers Youth Initiative.
Her creativity and drive for this initiative has enabled young women to shine bright whatever their pursuits, dreams and aspirations are. She is a true inspiration to the female entrepreneurs in the Hastings Region.
Sue Jogever (Winner) nominated by Mel Haverfield
Since moving to Port Macquarie in 2011, Sue Jogever has been an impressive leader, innovative disrupter and positive part of the Hastings community. As Principal of Belle Property, Sue Jogever is an experienced and driven real estate agent and powerhouse for leading businesses. Through her extensive real estate knowledge and unwavering commitment to her clients, Sue has built a leading boutique agency in the greater Port Macquarie region.
Not only is Sue an innovative woman leading business, she is also a dedicated and passionate woman who has been influencing the broader community in projects both locally and overseas.
Demonstrating her significant leadership and outstanding contribution to the lives of women and girls in the community, Sue has been involved as Youth Director for Rotary Club Port Macquarie Sunrise, a founding member of Luminosity Youth Summit, a former Hastings Business Women's Network committee member and personal contributor and fundraiser for Domestic & Family Violence Specialist Service Port Macquarie.
On a more personal note, a special charity that has been close to Sue's heart is her role as a founding member of the local not for profit organisation, If We All Had Wings. In 2016 Sue's close friend, Skye Petho was diagnosed with early stage Breast Cancer. As a way to show her support, Sue and the team created an art-based not-for-profit organisation to create awareness and more importantly, raise funds for local families facing financial hardships whilst undergoing their cancer treatment. In 2017, Sue led a successful fundraising campaign that raised $10,000 to bring an Orange Sky Laundry to the Mid North Coast region in aid of the homeless. Regularly involved in local fundraising initiatives, Sue, has been at the forefront of developing programs which inspire and enable people to live better lives.
Sue has demonstrated an enviable ability to initiate, implement and lead others across a broad range of community groups, all while constantly evolving her successful real estate business and raising a her family.
Her energy, commitment and true belief in the initiatives and organisations she supports are inspirational and it is clear that she is genuinely dedicated to making a difference in the Port Macquarie community. She is truly an outstanding and remarkable woman who continues to make our region a better place.