2019 Hastings Heroines
Posted by Parker & Co Communications on 9 March 2019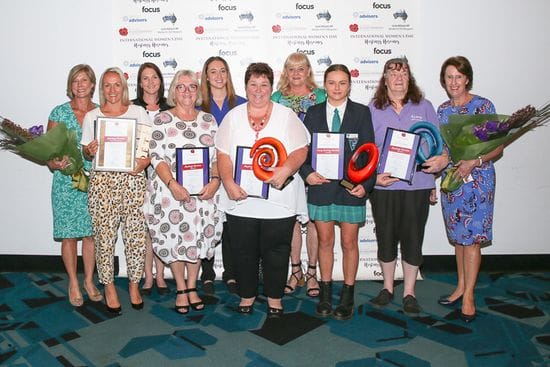 The Hastings Heroines awards recognise the unsung heroines of our local region as part of International Women's Day celebrations. The 2019 International Women's Day theme was Balance for Better. The awards this year acknowledged local women who are making a positive difference and leading the Hastings community towards a better gender balance.
Congratulations to all our 2019 Hastings Heroines Nominees.
Young Hastings Heroine Xanthia Hughes.
Xanthia Hughes was nominated by Robert Lyttle. Xanthia leads by example as a trailblazer in male dominated subjects such as industrial technology timber and is always first to volunteer to help her school, peers, teachers and community members. Xanthia is recognised for her keen community spirit and tireless work with those who are disadvantaged or in distress.
2019 Hastings Heroine Janis Eldridge
Janis works tirelessly to link women with the food, support and skills they need. She has voluntarily managed the local food rescue service for more than 10 years, often linking women with support agencies and providing work experience. Her efforts were recognised by nominator Anita Stevens.
2019 Hastings Heroine Jody Gleeson
Jody is recognised for her voluntary community work and for inspiring many women to create opportunities to succeed. Danielle Maltman nominated for her voluntary contribution to the community as Secretary of the Camden Haven Pastoral Agricultural Horticultural and Industrial Society, coordinating 50 events each year, and giving generously to farming families doing it tough.
Highly Commended Hastings Heroine Leasa Harris
Leasa is recognised for her work progressing gender equality and supporting the success of other women in her business and the community. Nominated by 2018 Hastings Heroine Sue Jogever, Leasa Harris is a local entrepreneur who leads by example in encouraging and empowering women in her businesses Salty Crew Kiosk and formerly Bills Fishhouse. She also supports many community charities.
Hastings Heroine Runner Up Alison Neale
Alison is a community minded woman who gives her time generously to others in need, particularly women. Since receiving a Highly Commended in the 2017 Hastings Heroines, Alison Neale has gone from strength to strength, according to nominator Danielle Maltman. As well as her many and varied community committee roles, Alison is working with the Women's Domestic Violence Court Advocacy Service and volunteers her time for Orange Sky Laundry.
Hastings Heroine Nominee Di Bannister
"Unconditional positive regard" is the mantra of Di Bannister, Lifeline's Training Manager who works hard to empower people, provide support through personal crisis and save lives. Di was nominated by colleague Kelly Saidey.
Hastings Heroine Nominee Danielle Bartlett
Nominated by Emily Kinney, Danielle is an Occupational Therapist who works with young girls and boys to progress at home and at school. She also provides a space for members of the disability community to come and play games as one of the owners of Retcon Comics.
Hastings Heroine Nominee Gabby Boxhall
Tim Walker nominated Hastings Co-op employee Gabby Boxhall who has risen through the ranks to become a valued and inspiring team member at a young age. Gabby is an active part of her community as a member of local netball and fishing clubs.
Hastings Heroine Nominee Briony Butt
Briony was nominated by Tess Koning for making a difference in the lives of many children, including her daughter with Autism Spectrum Disorder, and all the students she supports in her role as a Teacher's Assistant.
Hastings Heroine Nominee Sue East
Danielle Maltman put forward Sue East, President of the Camden Haven Chamber of Commerce and prolific volunteer. Sue is a member of Council's Economic Development Steering Group, was the owner of a national labour hire company for more than 20 years, and actively encourages women to take leadership roles in our community.
Hastings Heroine Nominee Diana Hammon
Diana is the Youth Director at Rotary and was nominated by 2013 Hastings Heroine Barbara Smith. Her dedication to helping youth is reflected in her involvement in the Rotary Group Study Exchange and the National Youth Science Forum.
Hastings Heroine Nominee Brittani Michelle
Nominated by Cindy Allen, Brittani is a young Rotarian who donates her time for gender equality in her local community and oversees. She has raised much needed funds for young girls to stay in school instead of leaving to get married.
Hastings Heroine Nominee Annette Supple
Annette was nominated by Louise Petrou for her dedication to all patients, especially women, in her work setting, and for spreading goodwill in our community every day. Annette is currently busy organising a charity event for a young girl struck by cancer.
Author:
Parker & Co Communications