Applications now open for ArtSmarts free business mentoring program
Posted on 5 November 2017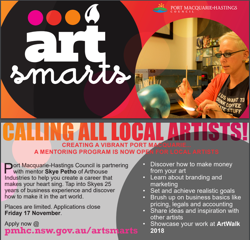 'ArtSmarts' is a six month business mentoring program that is open to local artists looking to turn their passion into a profession and succeed in their creative careers.
The program is being delivered by Port Macquarie-Hastings Council in partnership with local creative business, Arthouse Industries.
The mentoring program is open to all local artists, from painters to performers, from graphic artists to fashion designers.

Group Manager Lucilla Marshall, said supporting local artists to build successful businesses is an important part of Council's vision for the region as a culturally rich community with a thriving arts scene.
"The arts industry plays a vital role in creating community connections, contributing to the economy through employment, and driving tourism in the region," Ms Marshall said.
"If you're a creative, we want to hear from you. Whether you want to brush up on your existing skills, or you're not even sure where to begin, this program will give you the foundation you need to build a successful business," added Ms Marshall.
During monthly one-on-one sessions, mentees will learn how to commercialise their art, branding and marketing, customer service, pricing, accounting, and strategic goal planning. The program will include monthly group catch-ups to share inspiration and ideas, and culminate in a collaboration with ArtWalk in April 2018.

The sessions will be facilitated by successful local artist and business owner, Skye Petho of Arthouse Industries, who has more than 25 years business experience and 15 years as a trainer.
"We have so many talented creatives in this region with an enormous untapped potential. I want to help more people make a living from creative careers that make their heart sing," Ms Petho said.
Applications are now open and close on Friday 17 November 2017. The first session kicks off at the Glasshouse on Monday 27 November.
For more information and to apply online, visit pmhc.nsw.gov.au/artsmarts or call Council on 6581 8111.