Business Women's Commitee Welcomes Newcomers
Posted on 14 November 2014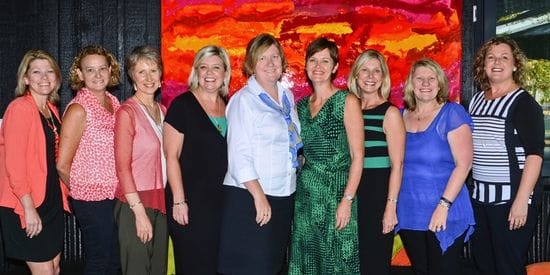 The new management committee of the Hastings Business Women's Network (HBWN) met for the first time this week to discuss plans for future growth and the rollout of enhanced benefits for the 200+ local women in business that belong to the network.
The committee newcomers were elected at the Network's Annual General Meeting on Thursday 30 October, which doubled as a fundraiser for breast cancer, with 50 attendees successfully raising more than $450 for the National Breast Cancer Foundation.
The AGM included a lively breakfast with the enforcement of a 'wear pink or pay' policy, and also featured a moving account of one member's breast cancer journey.
The Network welcomed continuing committee members into new roles, along with five new position holders. Committee representatives include: President Karen Archer, Vice President Ingrid Weissmann, Secretary Linda Dewbery, Treasurer Tania Magon, Membership Coordinator Mel Haverfield, Communications Coordinator Kelly King, Events Coordinator Bron Watson, Sponsorship Coordinator Kylie Jones and Professional Development Coordinator Natalie Green.
HBWN President Karen Archer said the enthusiastic new committee members bring a range of professional skills and experience to the Network and are now all hard at work preparing for the Network's 15th Birthday Celebrations amongst other initiatives.
In November the HBWN will celebrate its 15th anniversary. This momentous occasion marks 15 years of encouraging, empowering and educating women in business in Port Macquarie and surrounding regions. The organisation, founded by Kellie Mills in 1999, has grown from an original group of 21 women to over 200 members today.
Founding President Kellie Mills will be attending the event, which will be held on 21 November at Port Macquarie Surf Life Saving Club.
"We are all very excited about this milestone event for the HBWN. With the theme 'Party like its 1999', the evening will provide the perfect opportunity for members to reflect on the Network's achievements, get to know the wonderful women within the Network and enjoy a fun night out.
We would encourage all members past and present to join us as we celebrate this special occasion," said Karen Archer.
For further information about the Hastings Business Women's Network visit www.hbwn.com.au