Chance to celebrate women who press for progress
Posted on 30 January 2018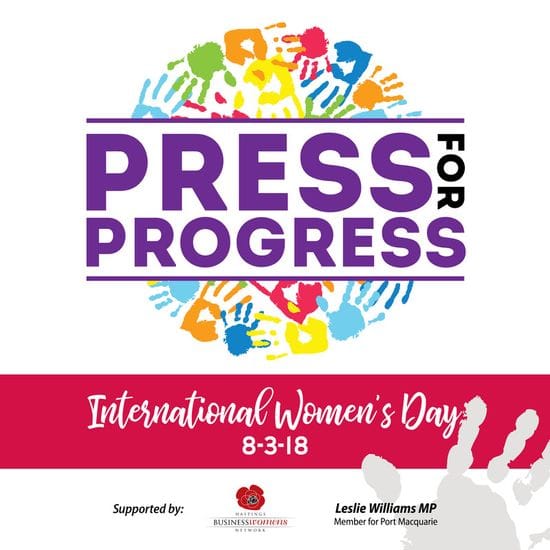 Do you know a local heroine who has made a positive difference for women in the Hastings community?
Nominations are now open for the 2018 Hastings Heroines Awards, as part of International Women's Day celebrations.The awards recognise the efforts of unsung heroines in the local region. This year's awards celebrate women who encourage and strive for disruptive innovation, creating new norms in our community, in line with the international theme of #PressforProgress.
Award winners will be announced at the International Women's Day breakfast hosted by the Hastings Business Women's Network (HBWN) and Leslie Williams MP, at Panthers on Thursday 8 March.
Attendees will be inspired by guest speaker Bec Brideson, who has made her mark in the male-dominated advertising and marketing world by challenging and changing perceptions. Bec has built multiple successful businesses and now works with others to help them rethink the new female economy.
President of the HBWN, Kelly King, said the awards and breakfast were a call to our local community to motivate and unite friends and colleagues to think, act and be gender inclusive.
"Women are making positive gains for gender parity every day and it's important that we use this opportunity to acknowledge local women who make a significant difference in our community," Mrs King said.
"Last year we also introduced a Young Hastings Heroine category and we encourage community organisations, schools and sporting groups to consider nominating a woman under 21 years that is deserving of recognition."
Member for Port Macquarie, Leslie Williams MP, said the event, now in its seventh year, had raised over $45,000 for the Port Macquarie Hastings Domestic and Family Violence Specialist Service.
"We're so grateful for the community spirit and the generosity of our local business community who attend the IWD event each year and dig deep with sponsorship, donations, prizes and in-kind support," Mrs Williams said.
Award nominations close on Thursday 15 February. Download the Hastings Heroines Award nomination form at http://bit.ly/2GbzKNs
Last year's event was a sell-out so get in quick to purchase individual tickets and corporate tables. On sale now at hbwn.com.au/events
About Bec Brideson
Ten years ago, Creative Director Bec Brideson was flying high having reached a leadership position only 3% women in advertising attain. Her career, however, continued to be plagued by one thing her gender. Advertising's relentless 'Mad Men' culture and deliberate obtuseness towards the female consumer illuminated a widening industry blind spot she could no longer ignore.
Bec walked out of her truly remarkable career to found an innovative female-focused marketing agency Venus Comms. Her intent was to disrupt the current male-lensed marketing practices and build a business around the increasingly influential and powerful female market the first of its kind in Australia.
Little did Bec know that in the decade following not only would her agency grow into multiple businesses and great success; but that she would become a pioneer and role model for numerous entrepreneurial women also inspired to build better for women.
Bec continues to #pressforprogress with her global work speaking, educating and working with businesses on how a fresh re-think of female translates into success for all. Bec wants to inspire other women to take the leap and propel women's progress forward with her fascinating story of relapse, 'recovering misogyny' and redemption.
International Women's Day breakfast guest speaker Bec Brideson