CSU Start Something Workshop
Posted by Kelly King on 5 June 2017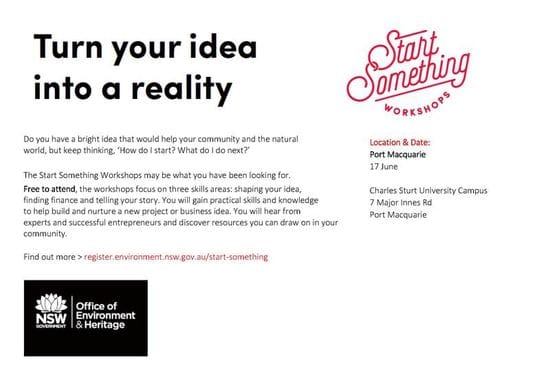 Do you have a bright idea that would help your community and the natural world, but keep thinking, 'How do I start? What do I do next?'
The Start Something workshop may be what you have been looking for.
In conjunction with the Office of Environment and Heritage, Charles Sturt University will be hosting the Start Something workshop on Saturday June 17th from 9:30am to 5:30pm at the Port Macquarie Campus.
Free to attend, the workshop will focus on three skills areas: shaping your idea, finding finance and telling your story. You will gain practical skills and knowledge to help build and nurture a new project or business idea.
To find out more visit register.environment.nsw.gov.au/start-something