Freethinkers Youth Membership
Posted by Mel Haverfield on 10 February 2017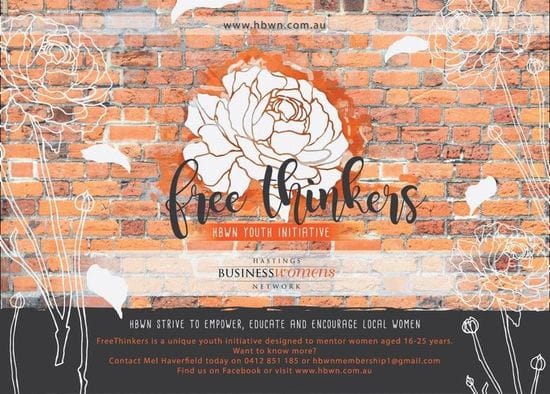 The FreeThinkers Youth Membership initiative has now been launched!
Freethinkers is a term used to describe intelligent, confident and creative people who are willing to learn and willing to share, always up for an adventure and keen to make a meaningful impact in life.

FreeThinkers is an HBWN initiative designed to empower, educate and encourage young women aged 16-25 years. The fundamental premise of this membership is to offer mentorship, support and guidance to enable our fabulous young women to shine bright whatever their pursuits/dreams and aspirations are.

As a FreeThinker, our young members will be paired with a mentor from the HBWN membership.
Based on what the Youth Member nominate as their highest priority area of support, we will match them with someone best suited to nurture their strengths and guide them through the bumpy bits.

Mentors will also encourage and accompany their FreeThinker in attending HBWN events and workshops to further boost their skillset and broaden their networks.

A passionate sub committee of youth leaders are helping HBWN to embrace the exciting concepts and talent that the youth bring to the table, so we can all learn and support each other.

Please start the conversation with your daughters, granddaughters, nieces, friends & work colleagues to take advantage of the invaluable wealth of experience and talent our network can provide, but conversely open the network up to fresh perspectives that the youth deliver so brilliantly.

If you are interested in nominating as a Mentor for a FreeThinker or would like some more information, please message Membership Coordinator Mel Haverfield here.