HBWN Panel Discussion - Weekly Business Update - Covid-19
Posted by Kelly King on 1 June 2020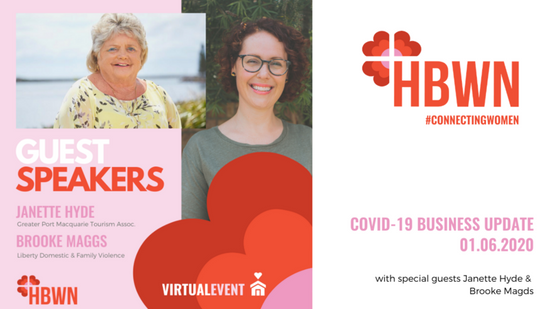 A fabulous Covid-19 Business Update Virtual Event this morning, Monday 1 June 2020, with exciting updates for our local tourism and hospitality industries with guest presenter Janette Hyde, critical deadlines for JobKeeper, changes to government grants and subsidies effective today, along with some sobering statistics and support information on domestic and family violence in our community.
Liberty Prevention and Awareness Specialist/Training and Development Coordinator, Brooke Mags. Brooke talked about the impact of Coronavirus and associated restrictions on the incidence and severity of domestic violence nationally and in our local community. Importantly, she will be able to help businesses understand their responsibilities around DV, especially with many now managing a "work-from-home" workforce. Home may not always be a safe place.
If you are seeking support locally, please contact Liberty Services
http://www.libertyservices.org.au/
Catch up on the full session and all our previous virtual events via our You Tube channel here.
Important Web links shared during this session:
JobKeeper links:
https://go.xero.com/bas/jobkeeper/monthly-reporting
https://www.loom.com/share/810671d2714f41f6b24d008a76e01042
https://www.ato.gov.au/General/JobKeeper-Payment/Employers/Paying-your-eligible-employees/?anchor=Incometypes&anchor=Incometypes#Incometypes
SafeWork Australia Domestic & Family Violence Workplace information
https://www.safeworkaustralia.gov.au/covid-19-information-workplaces/industry-information/office/family-domestic-violence#heading--1--tab-toc-what_are_my_whs_duties?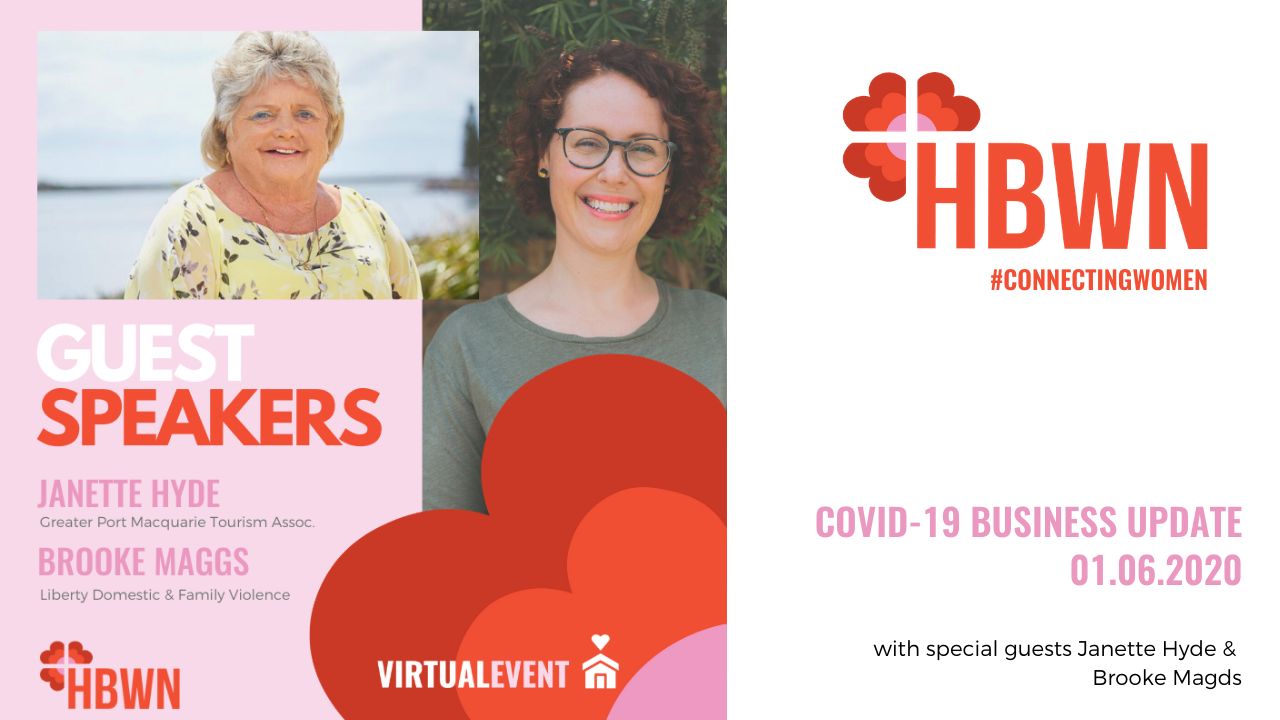 HBWN is committed to connecting women in business in our community during the COVID-19 pandemic. This video continues our weekly webinar to support local businesses in the Port Macquarie Hastings region. Special thanks to our panel of experts; Member for Port Macquarie Leslie Williams MP, C2Hills Consultancy Director Cara Dale and Seachange Accounting Principal Sandra Magann. This session was facilitated by Kayley Riddle from People Engine and features special guests Janette Hyde, Greater Port Macquarie Tourism, and Brooke Maggs, Liberty Domestic & Family Violence Specialist Service.