Indigenous Entrepreneurship Pop Up Hub
Posted on 16 February 2018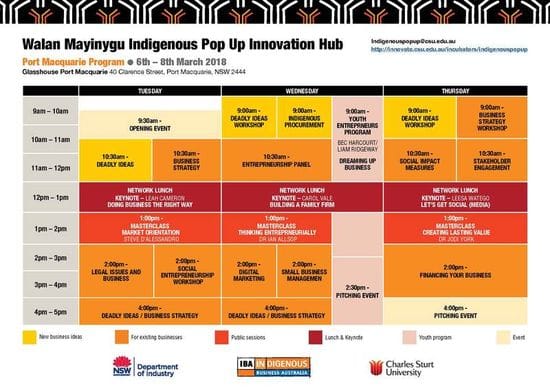 WALAN MAYINYGU ('Strong for People' in Wiradjuri) Indigenous entrepreneurship Pop Up Hub is coming to Port Macquarie 6-8 March 2018 at the Glasshouse
The Hub is open from 9-5pm and all workshops/sessions/panels and networking events are free to attend REGISTER AT
https://www.eventbrite.com.au/e/walan-mayinygu-port-macquarie-pop-up-tickets-33479197180
Indigenous entrepreneurs will be teaching the majority of the sessions across the program, supported by CSU and Melbourne Business School academics.
A few of the Indigenous entrepreneurs that will share their expertise in the Hub include:
Port Macquarie is the third Pop Up WALAN MAYINYGU Hub in a series of four Pop Up's across regional NSW.
In NSW, Aboriginal communities can be found in urban, regional and more remote locations. There are 120 Local Aboriginal Councils across 9 regions in NSW. Charles Sturt University is NSW largest regional university and our footprint across the state provides a uniquely powerful environment from which to serve and support such dispersed communities. A Pop Up Innovation Hub (Pop Up) is an ideal model which can overcome geographical isolation and offer an interface and a space for individuals and communities to generate their own ideas.
This model is founded in the learnings from the MURRA Program, an executive education offering for established Indigenous businesses seeking to grow , and existing Indigenous entrepreneurial leadership expertise within CSU . Research shows that Indigenous self-employment has almost tripled between 1991 and 2011, increasing from 4,600 to 12,500 . This Indigenous entrepreneurial wave needs nourishment through business education, business connections and business incubation. The Pop Up Innovation Hub will act as a place-based generator of ideas, opportunities and momentum for the Indigenous Australian entrepreneurial sector.
Thursday there will be an advisory meeting held at CSU Port Macquarie 801.1026 and 801.1027 Library between 11am 12pm and we extend an invite to any Bearlay Interagency members who would like to attend.
For further information please contact Kristal Kinsela