Inspiring Positive Change - Hastings Business Women's Network Reap and Sow Dinner
Posted on 26 May 2014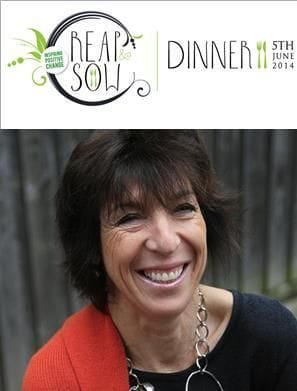 Members of the Hastings Community have been invited to come together at the Reap and Sow Dinner on Thursday 5th June to inspire positive change as they raise awareness of the valuable impact that food rescue charities OzHarvest and REAP Port Macquarie have within our local community.
The Hastings Business Women's Network are hosting the Reap and Sow event in an effort to promote the positive environmental and humanitarian impacts of using excess food to feed disadvantaged members of our community.
The events keynote speaker is Ronni Kahn who founded OzHarvest, a non-denominational, not for profit organisation that rescues surplus food from restaurants, retailers, food outlets and corporate kitchens to feed communities at risk.
"Ronni will inspire us with her story of the entrepreneurial journey she has taken to set up OzHarvest and the success this charity has managed to achieve to date" said HBWN Vice President Karen Archer.
Guests will also hear from Katrina Humble who set up REAP Port Macquarie, the regional arm of OzHarvest.
"Since commencing operations in the Hastings region, REAP has managed to rescue nearly 11,000kgs of food.
This rescued food has helped create 37,000 meals and helped save local charities and organisations $183,000" said Ms Humble.
One of those local beneficiaries includes the Ecumenical Soup Kitchen run by Sister Marjorie McLachlan.
The Ecumenical Soup Kitchen feeds between 150 and 200 people within the Hastings community on a weekly basis.
'We have a real cross section of people accessing our Soup Kitchen each week' said Sister Marjorie. 'Families, the homeless, the young and the old all come to enjoy a three course meal every Monday.'
The donations organised by REAP Port Macquarie often stretch much further than the weekly meals that the soup kitchen provide.
"Often Katrina will bring us groceries such as tinned food, dry packaged food, long life milk and even toiletries that we are then able to give to people to take home and use that week" said Sister Marjorie.
To celebrate the concept of food rescue, local caterers XS Food have been charged with the task of creating a six course degustation feast for Reap and Sow guests.
As one of REAP's major supporters XS Food have donated over 2,000kg in quality excess food over the past three years. They have also contributed hundreds of staff hours for functions held by local charities including the Cancer Council, Soup Kitchen, Reap Rescue & the Hastings Business Women's Network.
'We are passionate about supporting our local community and excited to be involved in this inaugural event that highlights the positive impact that food rescue can have within our community' said XS Food owner Rachel Freudenstein.
The Reap and Sow event will be held on Thursday 5th June at the Tacking Point Surf Club and commence at 6pm.
Tickets are $95 per person and include a drink on arrival, a six course meal prepared and catered by XS Food from locally sourced surplus food and entertainment. Group bookings for 10 are also available for $900.
A silent auction will also be conducted on the evening with over $2,000 worth of items up for bid.
Funds raised from the event will be donated to REAP Port Macquarie and OzHarvest Australia to assist them in their quest to feed disadvantaged members of our community.
Tickets to the dinner are available at www.hbwn.com.au