Learn How Four HBWN Members Collaborated to Pull Off a Surprise Renewal of Vows Ceremony!
Posted by Mel Haverfield on 19 April 2018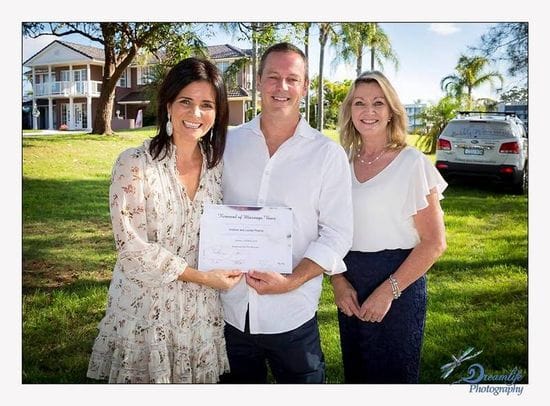 A fateful fusion of meetings at HBWN events resulted in four HBWN members joining forces to create a very special event earlier this month.

Louise Pearce who is a Consultant for Rodan+Fields, a premium anti-ageing skincare range, had a crazy little idea to surprise her husband with a renewal of vows ceremony to celebrate their 10-year wedding anniversary. She shared this idea with a couple of new found friends at an HBWN event and the dream soon took shape and became a reality.

Through a series of introductions, Louise formed a team of HBWN professionals to help plan a surprise ceremony she hoped her husband would love!

Melissa Shiplee of Bubbly.M Events was tasked with managing all the finer details of the event. Mel's brief was to keep it simple but classy and Louise could not have been happier with the exceptional job she did in delivering "Mel is such a delight to work with - she has a relaxed and friendly demeanour yet is a true professional full of wonderful ideas, stays on top of all aspects of the event and gets the job done."

Kip Harris of Kip Harris Celebrant who was already aligned with Mel Shiplee through HBWN connections, was a natural choice of celebrant for Louise. "Kip was absolutely divine, she put us and the guests at ease and the words she spoke were so warm and from the heart. Kip spent a great deal of time and put a lot of thought into the ceremony, and she managed to capture the essence of our relationship and kept it casual and light-hearted as I had requested. Kip has such a beautiful energy and you can't help but feel the love when she's around!"
Of course, every ceremony must have a photographer and HBWN's official photographer for 2018 Ally Purnell of Dreamlife Photography fulfilled this role beautifully. Ally was excited to have the opportunity to work with fellow HBWN members as a team and Louise was thrilled with the results. "Ally is a joy to work with. She is so sweet and friendly and ensured she knew ahead of time what I wanted from the photos. Again, the brief was "casual and candid" and she managed to do just that. Ally was professional yet respectful of the guests and went about her business without imposing on anyone."
We are very pleased to report that Louise's husband Andrew was surprised (in a good way) and loved it!
"Saturday was magical! We couldn't have asked for better weather and yes, Andrew was blown away!" said Louise. "I feel so privileged to know all these incredibly beautiful and talented women, and to have been able to call upon their skills and services on such a happy occasion was even more special! Andrew thinks we should make it an annual event...we'll see about that!!"

All four HBWN members were excited to collaborate on this event as a networking/marketing exercise and waived their fees in lieu of supporting each other in business. Mel Shiplee summed their collaboration up by saying "Four HBWN ladies got together without knowing each other or having experienced each other's work before. We not only successfully put together a small event but learnt about each other and our businesses, gained exposure through each other's contacts/social media and above all had FUN!!"

What Louise, Mel, Kip and Ally achieved in reaching out to each other as fellow members of the business network they belong to, is the very essence of Hastings Business Women's Network and it makes our heart sing! To encourage, empower and educate each other through friendship and business alignments is a such a powerful source of support.

You can check out the full gallery of Louise and Andrew's surprise wedding pics by Dreamlife Photography here.

Louise would also like to make special mention of an additional HBWN member, Jacqui from Chop n Chill for hosting their reception so beautifully afterwards.

If you have collaborated with other HBWN members on a project, we'd love to hear about it!

Let's continue the celebration of each other as women and friends in business by sharing our stories and seeking the amazing support on offer from your fellow HBWN members.