Mentor Program Helps Local Business Women Reach Their Potential
Posted on 12 September 2014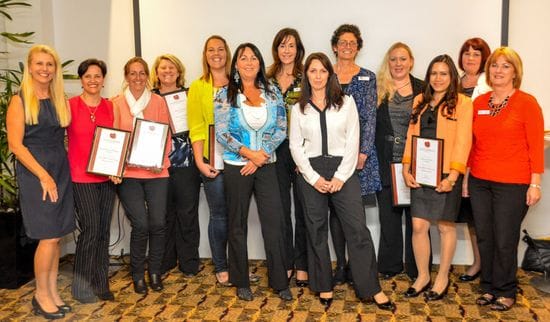 Eight local business women celebrated their graduation from the Hastings Business Women's Network Mentoring Program at a special evening event on Thursday 11 September at the Town Green Inn.
The mentoring program was conducted over a six month period and involved 24 hours of one-on-one mentoring coaching sessions as well as seven professionally facilitated business seminars.
Program Coordinator and HBWN Member Wendy Stow said the ceremony provided a great opportunity for both the mentors and mentorees to celebrate the culmination of a six month program that has fostered intense learning, camaraderie, personal and professional development.
"This year's mentoring program has produced a little bit of pure magic," Ms Stow said. "Working as a team, our mentors and mentorees have been able to experience extraordinary growth" she said.
Those who attended the graduation ceremony heard from all of the participating mentors and mentorees and were inspired by the stories of discovery, development and support.
Francessca O'Donnell, owner of Out There Mosaic and Design took part in the Mentoring Progam to further develop her business skills.
In her address to ceremony attendees, Ms O'Donnell expressed extreme gratitude to her mentor Barbara Smith, from local business The Roving Trainer.
"I come from an artistic background and whilst I am very confident in my product, I wasn't at all confident in my business and marketing skills" Ms O'Donnell revealed. "Barb was able to transfer so much of her knowledge, experience, advice and support, I feel I can now progress forward with gusto and achieve great success with my business."
"This program has provided me with an opportunity to undertake intense learning which has helped raise my awareness to the business possibilities available to me ," Ms O'Donnell said. "It has served as a springboard to further extend my professional potential."
HBWN President Kelly Lamb confirmed the network would be running the mentoring program again in 2015 and encouraged any business women who were interested in taking part in the program to get in touch with the network.
"The Hastings Business Women's Network is about educating, empowering and inspiring women to achieve amazing things" said Ms Lamb. "I believe this mentoring program manages to accomplish all of this."
For more information about the Hastings Business Women's Network and the Mentoring Program please visit www.hbwn.com.au.