Refuge benefits from $18,500 from International Women's Day event
Posted by Parker Co Communications on 23 March 2018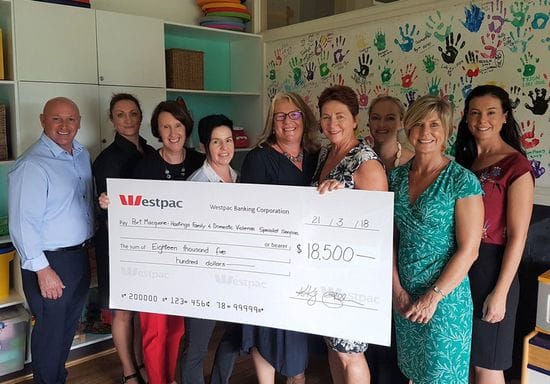 Media Release - 23 March 2018
Now in its seventh year, the International Women's Day Hastings Heroines event has raised a total of $64,250 for the Domestic and Family Violence Specialist Service (DFVSS) since 2012.
This year's breakfast, held on 8 March, raised $18,500. A third of those proceeds came from the inaugural Him in Heels on 1 March, which encouraged men to be involved in the gender equality conversation in the lead up to International Women's Day.
Acting CEO of DFVSS Kelly Lamb said this funding means the organisation has an increased capacity to deliver services and supports that directly impact women and children in our local community.
"We take pride in Galbaan House as if it's our own home, and these funds will enable us to make significant improvements to provide a space where women and children can be safe and supported, and their stay with us is comfortable," Mrs Lamb said.
"We would like to create a new outdoor space where women can take time out and relax, as well as an area for family pets to board with us. A planned upgrade of the kitchenette in The Retreat space will allow our staff to prepare light meals for women who come to us for assistance.
"The quality of the rooms, fittings, furnishings, appliances and linen are all presented and maintained to the highest quality we can afford. The contributions we receive from the community, such as furniture, clothing, toys, gifts, practical assistance and financial donations, all go a long way to making Galbaan House feel like a home for our residents."
President of the Hastings Business Women's Network Kelly King said almost 300 people came along to the event to celebrate International Women's Day and show their support for gender equality.
"Our guest speaker, Bec Brideson, shared her experiences of inequality in the workforce, and how she rose above it all to create her own successful advertising consultancy that advises corporations on the importance of women as a powerful collective," Mrs King said.
Member for Port Macquarie Leslie Williams MP said in addition to raising funds and pressing for parity, the event also acknowledged another round of inspirational local women.
"Congratulations to the 2018 Hastings Heroines Winner Sue Jogever, Young Heroine Jess Denham, and Highly Commended Young Heroine Emily Stewart, who have all made a lasting difference in our community through disruptive innovation," Mrs Williams said.
"The International Women's Day event continues to grow from strength to strength, so don't forget to mark 8 March 2019 in your calendar!"
Author:
Parker Co Communications