Tall Poppies Honoured as Hastings Business Women's Network Celebrates 15 Years
Posted on 23 November 2014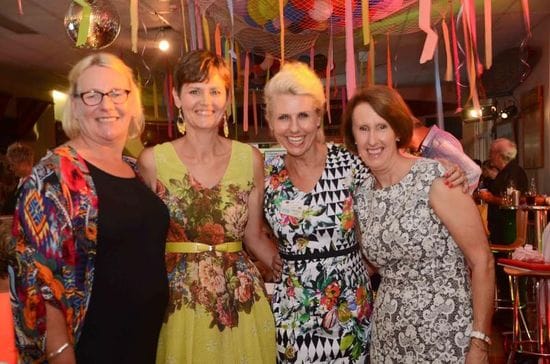 More than 75 Hastings Business Women's Network (HBWN) members kicked up their heels on Friday night to celebrate 15 years of encouraging, empowering and educating women in business in Port Macquarie and surrounding regions.
This exciting milestone event provided the perfect opportunity for members past and present to come together and reflect on the Network's achievements and enjoy a fun night out.
The night also served as an opportunity to fundraise for the Port Macquarie Hastings Domestic & Family Violence Specialist Service with $5 from each ticket sold being donated to the Service.
Special guests included Member for Port Macquarie Leslie Williams MP, Deputy Mayor Justin Levido, HBWN founding President Kellie Mills, and Tall Poppy Life Members Peta Simmons, Sue Reid, Debbie Todd, Glenda Hamilton, Di Edgerley, Caron Dyball and Michelle Vassallo.
Guests were treated to a delicious 10 course canapé menu by XS Foods and partied like it was 1999 at Port Macquarie Surf Club, dancing the night away to the sounds of Quantum Souls.
Founding President Kellie Mills shared her motivation and inspiration for establishing the network, which has grown from an original group of 21 women to over 200 members today.
Member for Port Macquarie and event sponsor Leslie Williams commended the organisation for their enduring commitment to bring professional development and networking opportunities to business women in our community.
Two determined and passionate women were also honoured on the night. The Network recognised the dedication of immediate past President Kelly Lamb and longtime member Barbara Smith with Tall Poppy Life Member Awards presented by Kellie Mills.
"Kelly Lamb has been a member of the HBWN for more than 12 years. The network has benefited tremendously from Kelly's professionalism and passion, and from her clear vision and effective leadership. We are grateful to Kelly for guiding the HBWN through an exciting evolution, while ensuring the organisation remained true to its vision, and in particular instilling a sense of belonging."
For further information about the Hastings Business Women's Network visit www.hbwn.com.au