Why the HBWN FreeThinkers program is an all-inclusive tour like no other!
Posted by Mel Haverfield on 13 March 2018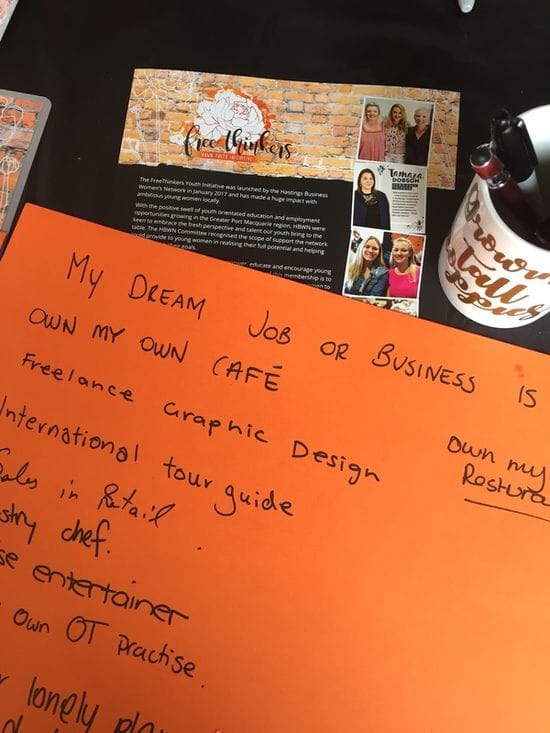 Recently the Hastings Business Women's Network joined in the excitement of O Week by introducing the FreeThinkers Youth Initiative to hundreds of students, totally pumped to kickstart the next leg of their journey on Market Day @Charles Sturt University.
While the feel-good vibes were contagious, we did sense a tiny hint of trepidation and impending overwhelm quietly lurking not too far under the surface.
There will, absolutely hands down, be many high and lows as students take on the juggle of study, work and just life in general.
If you could have someone in your corner, that you could just download to, someone who has already been where you are now that isn't your parents, friends or teacher, but have the experience to offer advice and support, would this not be amazing?
We're pretty sure it would be, and this is what the FreeThinker's membership is all about.
FreeThinkers was brainstormed as the perfect term to describe intelligent, confident and creative young women who are willing to learn, willing to share, always up for an adventure and keen to make a meaningful impact in life.
If that sounds like you, then stay with us as we casually segue over to outlining the benefits of becoming a FreeThinker member and the invaluable gifts you can receive from touring with a mentor.
FreeThinkers is an HBWN initiative that was designed to empower, educate and encourage young women aged 16-25 years.
The fundamental premise of this membership is to offer mentorship, support and guidance to enable fabulous young women, just like you, to shine bright whatever your pursuits, dreams and aspirations are.
And because we LOVE to stimulate the sharing of dreams, we generated engagement through an interactive activity at our FreeThinkers exhibit on Market Day.
Amongst some great contributions to our dreams poster, we loved the idea of someone wanting to be an international tour guide - such a cool way to earn a living we say!
In fact one of our HBWN mentors has been an international tour guide, and while we won't get carried away by likening her to a Sherpa helping you to traverse the Himalayas, we do see our HBWN Mentors as experienced tour guides on this journey we call life.
If you feel you or a friend may need a Mentor to help navigate the bumps in the road this year, please consider joining HBWN as a FreeThinker member.
The additional benefits for our community in embracing generational diversity with a sprinkle of girl power for good measure, is a winning formula.
For more info, send Membership Coordinator Mel Haverfield a message on 0412 851 185 or hbwnmembership1@gmail.com