Women in FOCUS - An Interview with Megan Philippa
Posted by Mel Haverfield on 6 December 2020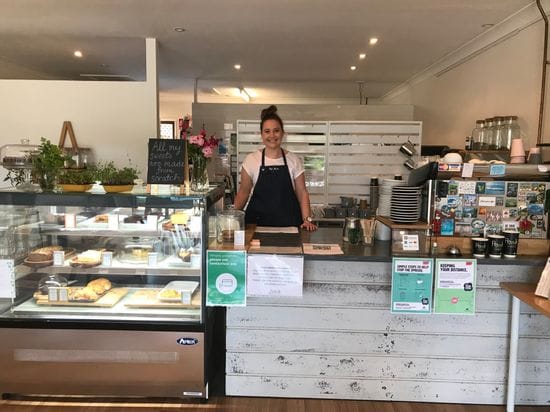 Megan, The Nook recently opened over the October long weekend. Can you share the journey of bringing the café to life?

For me, opening a cafe has been on the agenda since I was 17. At 34 years old, you could say I've been planning The Nook for half of my life! Quite simply, it was a case of several key factors aligning to make this happen. Taking the leap from a steady income has been scary, especially when the economic climate is so uncertain, but the emotional support from friends and family reminds me to believe in myself. Some may think it's brave or crazy to open a cafe during a pandemic, but limited seating has meant I can slowly find my feet as restrictions ease. Normally I'm an overthinker, but the timing was right and an opportunity I could no longer deny myself.

What influences your menu at The Nook?

My culinary heroes include Jamie Oliver, Annabel Langbein, Nigella Lawson, Paul West, Matthew Evans, and Maggie Beer. My inspiration is drawn from reading lots of books and the people I've met in my travels. For me, food is all about community. I shop locally wherever I can to support local producers, and the café has been created as a warm, fuzzy space for people to connect over a meal or a cuppa. My food is not pretentious - it's simple, tasty food to nourish, make you feel good, inspire a food memory from your childhood or remind you of a special person in your life.

You've been a member of HBWN for three years. How has your membership supported you during that time?

I joined HBWN to meet new people when I moved to Port Macquarie. I must admit I never thought of myself as a 'networking group' kind of person but HBWN proved me wrong. I've made many friends through HBWN and even ended up sharing a house with another member! The network has generated leads for my freelance marketing work and my previous food business. HBWN attracts professional women of all ages and walks of life and continues to provide a nurturing and supportive environment for me to connect and learn with like-minded people as I grow my business.

You're also an executive officer of the Camden Haven Chamber of Commerce. What plans are in place for the region?

I am passionate about the growth and wealth of opportunities in the Camden Haven region. The Chamber are working on some exciting projects to support local businesses, including the Laurieton Town Centre Master Plan Steering Group, Camden Haven Farmers Video campaign and the Camden Haven Gift Card to name a few. The Camden Haven Gift Card is an absolute game-changer for the region and encourages the community to shop locally, keeping much-needed funds within the Camden Haven.
And finally, what's your best piece of advice for women in business?

The biggest lessons I've learned in 2020 is to BACK YOURSELF, TRUST YOUR GUT and DO WHAT WORKS FOR YOU.
Great advice Megan, thanks for sharing your story with us.