Your Membership $$$ at Work
Posted by Mel Haverfield on 15 December 2017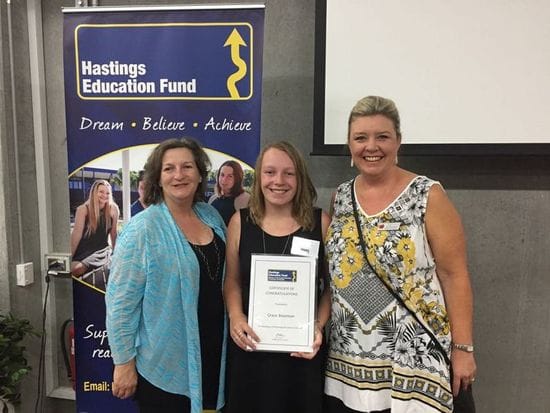 Meet Grace,
Grace is just one of the 37 recipients of a scholarship granted through Hastings Education Fund.
Did you know your membership $$$ have contributed directly to Grace being able to achieve her further education goals?
HBWN is an annual gold sponsor of HEF and we were delighted to attend the Gala event this week to congratulate and celebrate amazing young people receive their scholarships which will support them achieve their further education goals.
We thought you may be interested to learn a little more about Grace Boorman (daughter of HBWN member Ursula Boorman) and what she plans to pursue with the help of her scholarship.
Grace is aiming to undertake a Bachelor of Exercise and Sport Science at Deakin University's Burwood campus in Melbourne. This degree will lead her to work as a Sport Scientist at one of the clubs within the AFL.
Grace has a passion for science, in particular biology which is reflected in her Band 6 result in HSC Biology.
"The AFL is a personal passion of mine, a common interest I share with my Dad. The sport also requires high levels of performance from the entire of an AFL athlete's body, making each day of work provide new and varied challenges and experiences.Moving to Melbourne is the best way for me to gain direct access to the AFL clubs, with 10 of the 18 teams being located there.
The move to Melbourne was an easy decision, however the process is going to take effort. Receiving a HEF Grant removes some of the stress from the situation. It will help me to cover the cost of some of the things I am going to require throughout my first year of study"
Congratulations Grace on your scholarship, we wish you all the very best as you begin this new chapter of your life.