You don't need to be in Sydney to be a part of TEDxSydney 2018.
Presented by Hastings Business Womens Network and Cloud Concepts, Glasshouse Port Macquarie will be an official TEDxSydneyLive venue, where you can view the main stage content with your family, friends and colleagues in real time.
It will be a full day of talks, performances and films spread across four sessions.
TEDx events are held in the same spirit of TED, community-driven and organised under a free license. The content and design of each TEDx event is unique and developed independently. Like TED events, TEDx lacks a religious or political agenda, its goal is to spark conversation, connection and community. Over 10,000 TEDx events have been held globally, with billions of views online, all working to spread ideas; to change attitudes, lives and, ultimately, the world. TEDxSydney has become the leading platform for the propagation of Australian ideas to the rest of the world.
Full program and start/finish times will be announced in May 2018. Visit TEDxSydney.com for more information
HBWN financial members receive the special ticket price of $14.50 per person.
To access your HBWN Members only discounts please CONTACT US
TICKETS AVAILABLE FROM THE GLASSHOUSE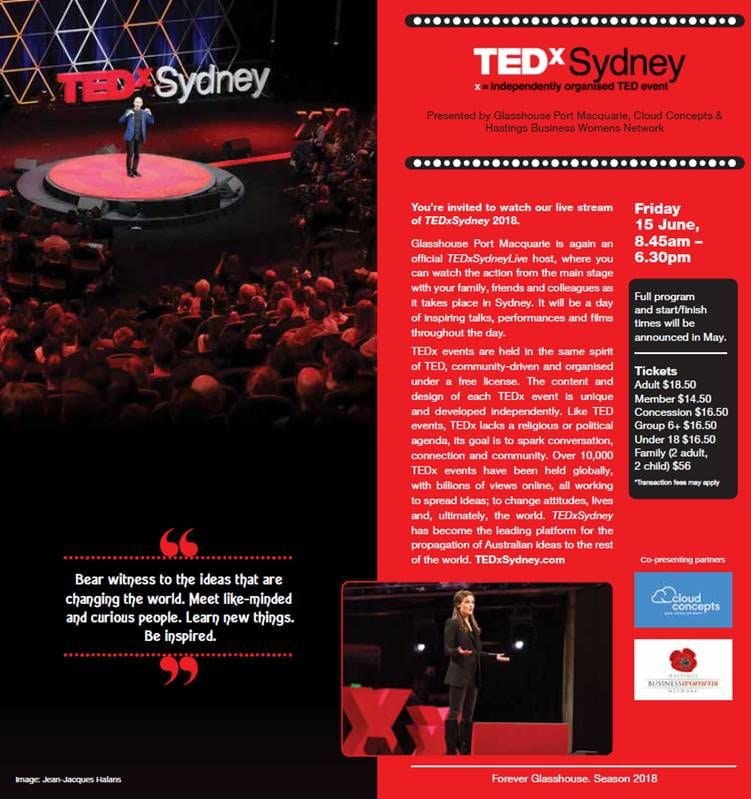 | | |
| --- | --- |
| Venue: | Glasshouse Port Macquarie |
| Venue Address: | Clarence Street Port Macquarie 2444 |
| Starting: | 8:45 AM |
| | Friday 15th June 2018 |
| Ending: | 4:00 PM |